| Item ID | Starting Bid | Bids | Current Bid |
| --- | --- | --- | --- |
| 15357 | $1.00 | 4 | $4.25 |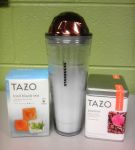 Employees of Eastgate Starbucks
Package #5 of 6
TAZO Passion Tea, TAZO Iced Black Tea & Starbucks Drink Tumbler
Retail value: $23.95
Donated by Employees of Eastgate Starbucks!
The retail employees of Starbucks in the Eastgate Shopping Center of Chapel Hill donated these wonderful items to our auction. Stop in and visit them! When you do, please thank them for us, and don't forget to tip!
This package contains 3 items:
one box of TAZO Passion Tea, "an herbal infusion of hibiscus, cinnamon, and tropical fruits", a caffeine-free delight, containing 15 full-leaf sachets,
one large Starbucks drink tumbler (as shown).
Starbucks of Eastgate Shopping Center
1800 E Franklin Street, Chapel Hill, NC 27514 (map)
Monday to Friday: 5:30 am - 9:00 pm
Saturday & Sunday: 6:00 am - 9:00 pm
919-929-2613