| Item ID | Starting Bid | Bids | Current Bid |
| --- | --- | --- | --- |
| 15350 | $1.00 | 9 | $5.50 |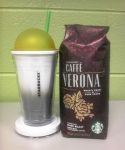 Employees of Eastgate Starbucks
Package #3 of 6
Caffè Verona Coffee & Starbucks Drink Tumbler
Retail value: $25.95
Donated by Employees of Eastgate Starbucks!
The retail employees of Starbucks in the Eastgate Shopping Center of Chapel Hill donated these wonderful items to our auction. Stop in and visit them! When you do, please thank them for us, and don't forget to tip!
This package contains 2 items:
one 16 oz bag of Starbucks Caffè Verona, a dark roast, whole bean coffee with roasty sweet & dark cocoa notes, and
one large Starbucks drink tumbler (as shown).
Starbucks of Eastgate Shopping Center
1800 E Franklin Street, Chapel Hill, NC 27514 (map)
Monday to Friday: 5:30 am - 9:00 pm
Saturday & Sunday: 6:00 am - 9:00 pm
919-929-2613