| Item ID | Starting Bid | Bids | Current Bid |
| --- | --- | --- | --- |
| 14987 | $1.00 | 11 | $11.00 |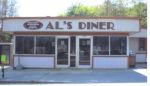 Al's Lunch Box & Diner Gift Card
Retail value: $20
Donated by Al's Lunch Box & Diner!
535 West St, Pittsboro, NC 27312 (map)
(919) 542-5800
Monday to Friday: 5:30 am – 9:00 pm
Saturday: 5:30 am – 2:00 pm
Sunday: Closed
Fare: Burgers, vegetable plates, fries, desserts. Drive through, take-out available. Serves breakfast, lunch, and dinner.
Al's Lunch Box (right across the street)
517 West St, Pittsboro, NC 27312 (map)
(919) 542-0813
Monday to Friday: 7:00 am - 2:00 pm
Fare: Homemade biscuits, BLTs, fresh baked muffins, bagels and fresh brewed coffee for breakfast. Deli style sandwiches like homemade chicken, tuna and egg salad, turkey, ham and roast beef. Veggie Sandwich and great Peanut Butter sandwich with a twist. Al's Diner usesthe Pittsboro Breadshop for breads, muffins and bagels. They also have Nathan's all beef hotdogs served on a New England style bun and BBQ sandwiches topped with homemade cole slaw. All lunch sandwiches served in a box with one side like Miss Vicki's chips, broccoli, potato salad or fresh fruit. Pepsi products, fresh brewed tea, fresh squeezed orangeade & lemonade and creamery milkshakes. Also served is homemade ice cream from Tarheel Creamery. They have 8 yummy favors right now. Drive thru and walk up. Call in for quicker pick up.